After weeks of cold and snow we were going to get some warmer days. I went down to Hocking Hills to visit a few frozen waterfalls I hoped would be flowing with fresh snow melt. I wasn't disappointed.
The first waterfall I went to was Cedar Falls. The last time I was there it was completely dry. This time the temperature was just above freezing and the flowing water had already started to melt the ice and snow from the inside out.
Click images to enlarge.
All photos are copyrighted and protected by Digimarc.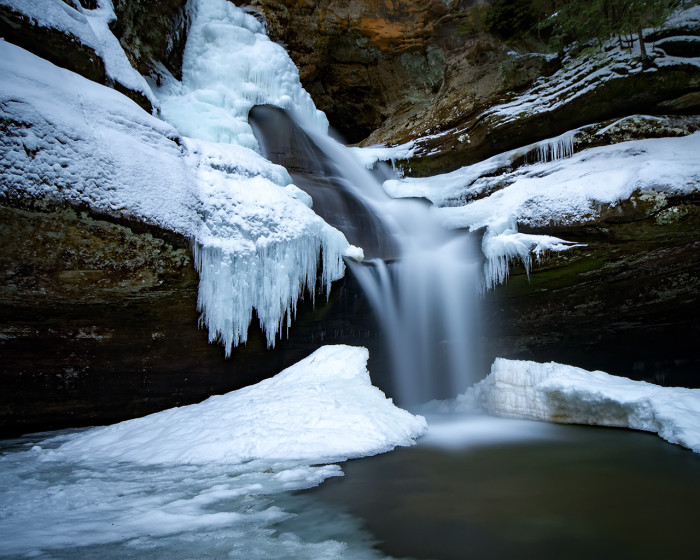 I didn't have my Panosaurus with me, but I tried a panoramic shot anyway. This is 12 vertical photos shot at ISO:100 f/7.1 11mm and 1/8 sec stitched together.

Just downstream from Cedar Falls and tucked into a little cove off the trail is Hidden Falls. I could hear it from the trail and went looking. It's a small waterfall, but certainly worth the couple steps and jumps it takes to see it.
After Cedar Falls I went looking for Big Spring Falls near Conkle's Hollow. Last time I tried to visit Big Spring I took a left instead of a right and ended up in Edison Hollow. This time I found Big Spring. It's possibly the tallest waterfall in Hocking Hills at about 100 feet high, but even with the snow melting the flow wasn't very strong. It's also a very difficult waterfall to photograph. I wasn't happy with any of the shots I got, but converting one of them to black and white was an improvement.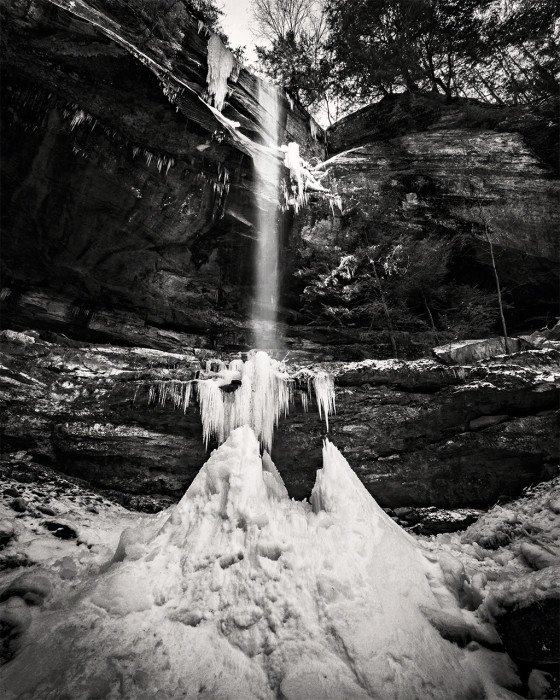 Conkle's Hollow is just down he road from Big Spring Hollow so I stopped in there to see what the waterfall at the end of the trail was like. By this time the temperature had risen to the high 40's and winter was just disintegrating in the hollow. Chunks of ice and snow were falling out of the pine trees, the creek ice was cracking and popping and icicles were losing there grip on overhanging rocks.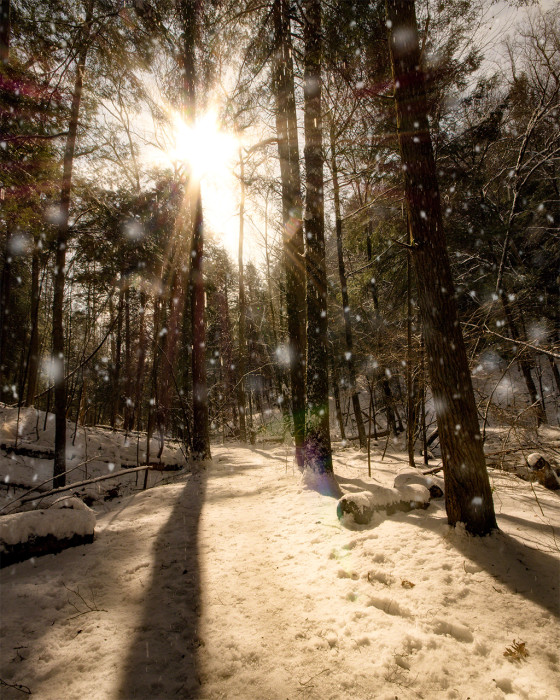 The waterfall at the end of the hollow is small, but the scene is pretty impressive with the high walls narrowing to a fine point at the waterfall. The frozen column of ice was being eroded from the inside by the fresh snow melt and the creek was a jumble of thin ice that had melted and refrozen and moved repeatedly.