Honey Run Falls in Knox County, Ohio was pretty slim the last time I visited. This past weekend, after a couple warm days melted all the snow and ice, it was really flowing. I got there early enough to have it to myself for over an hour. Well, except for that horse in the parking lot.
After a couple weeks of bitter cold and snow, we had a couple 60+ degree days and the waterfalls were overflowing. Honey Run Falls was so full, I spent over an hour capturing it from many different perspectives and at many different speeds. Here's a semi-amateur photography tip – don't put your filters in unzipped jacket pockets then crouch down to take a low angle shot. The filter can pop right out and be swept away in a torrent of snow melt. Crap.
The first shots I tried were low angle long exposures featuring the falls as a background to a small cascade where the water entered the creek. Having recently misplaced my 5 stop ND filter, I added the 10 stop and got some super smooth and silky water.
Click images to enlarge.
All photos are copyrighted and protected by Digimarc.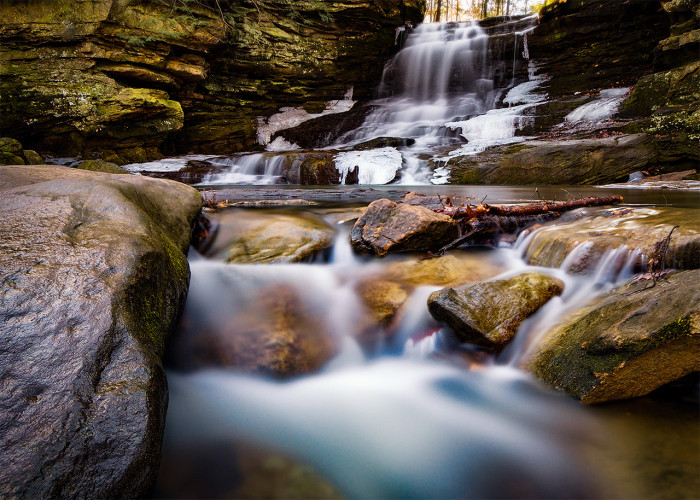 I moved a bit closer and tried a very long exposure shot with just the waterfall and the pool. I've been experimenting with shooting at f/7.1 as much as possible. Theoretically that's the sharpness sweet spot for my Sigma 10-20mm 4-5.6 lens. Adding a 10 stop ND filter to f/7.1 and ISO 100 gave me a 202 second exposure.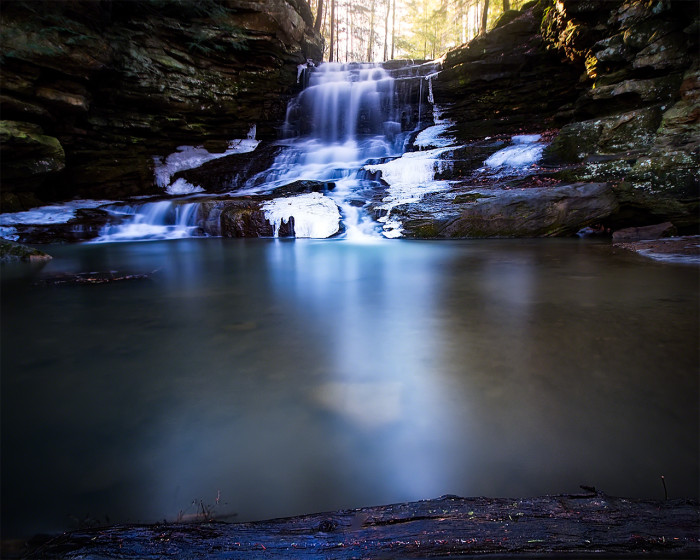 Moving even closer, I removed the ND filter to experiment with some shorter long exposure times. At ISO 100 and f/7.1  the exposure was 1/8 second and I really liked the sense of water movement that gave me. I tried smaller f-stops and longer exposures up to about 2 seconds, but came back to 1/8. By this point the sun had risen enough to shine over the crest of the waterfall.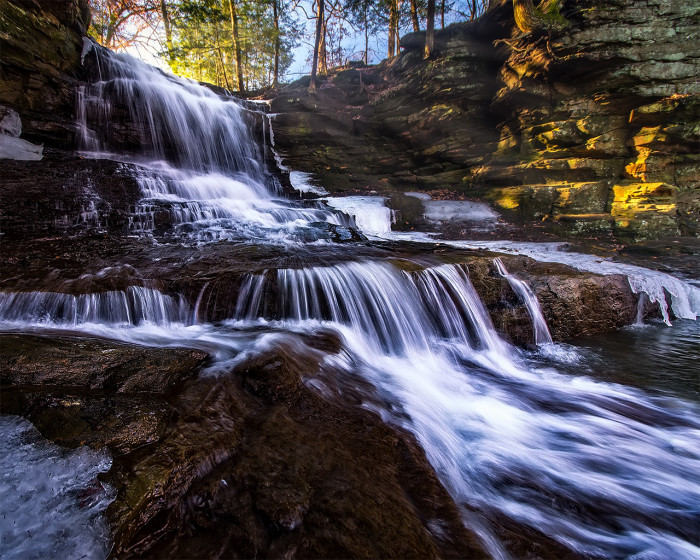 Before I left I took one shot from the little bridge that crosses the creek. To get a moderate amount of water blur I reduced the aperture to f/16 and got a 1/5 sec shutter speed. The rocks and trees provided a nice frame for the falls.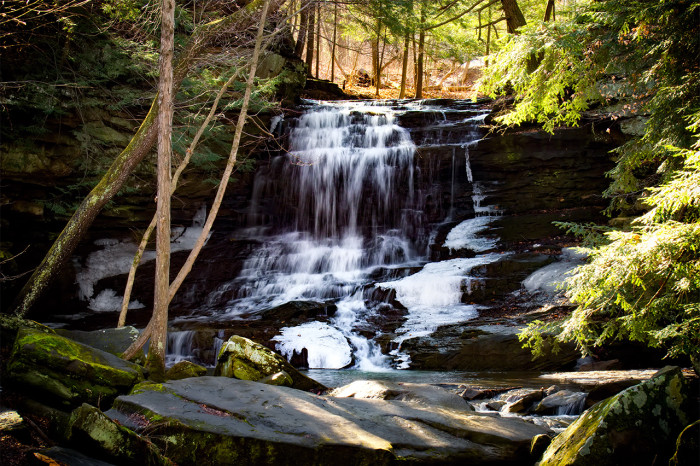 Oh yea, Knox County is Amish Country. When I got back to the little parking lot, this guy was tied to a tree off to the side munching and pooping. The carriage I presume he was pulling was parked in one of the spaces.