Recently I got to spend an entire day in Hocking Hills, from long before sunrise to well after sunset. It was a full day of light and dark, fire and water, and solitude and new friends.
Thursday night the weather report called for cold temperatures and clear skies the next morning in Hocking Hills. I went to bed early and got up at 2:45 AM, got my stuff together and headed down to Rose Lake. When I got there about 4:00 the Milky Way was just rising over the trees to the east. After I got setup, one of my test shots captured a shooting star. In long exposure shots, planes show up as dotted lines and meteors show up as tapered solid lines.
Click images to enlarge.
All photos are copyrighted and protected by Digimarc.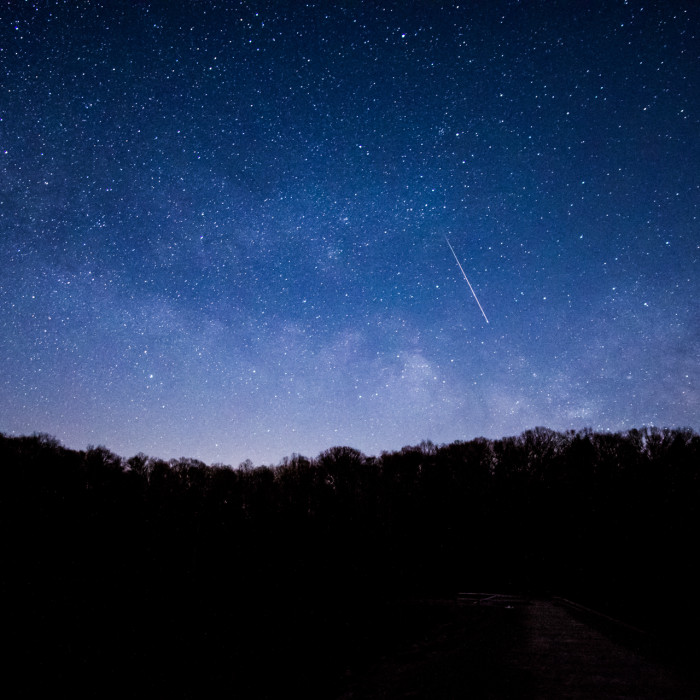 First I setup my Sony a5000 to take a time lapse sequence of the Milky Way rising. You can't disable the long exposure noise reduction on this camera, but noise reduction isn't used for some shooting modes. Noise reduction doubles the time required for a long exposure shot and makes the interval between shots too long. Switching to Continuous Bracket mode with a EV of 0.3 lets you take long exposures without noise reduction. After taking the test shots, I set the camera to manual mode, ISO:2000, f/2, and a 13 second shutter time. The intervalometer was set to take an infinite number of shots 15 seconds apart. I took the first 360 frames taken over 90 minutes to create a 15 second time lapse video of the Milky Way rising. Switch the video to HD if it isn't already. The music is Gillicuddy's "All Eventualities" from freemusicarchive.org.
While one camera was shooting the time lapse, I setup my Sony a3000 with a Rokinon 8mm fish-eye lens. The camera was set in portrait position on a Panosaurus head so I could capture a panorama of the whole Milky Way arching above Rose Lake and the dam. This is 10 shots taken at ISO:3200 f/2.8 8mm and 10 seconds stitched together in Lightroom. I had to take several shots and didn't want the stars to move too much between the first shot and the last so at the widest aperture, f/2.8, I balanced ISO noise with shutter time.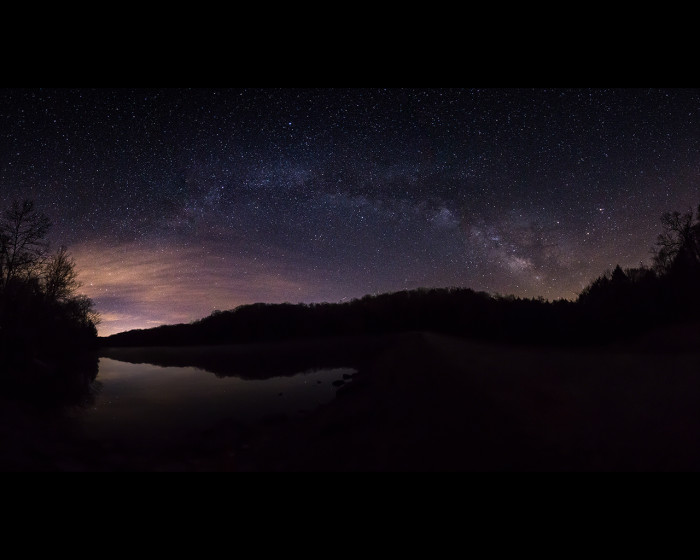 I removed the Panosaurus and put the fish-eye lens in landscape position and moved up the shore of the lake to try and get the Milky Way reflected in the water. On my APS-C sensor camera, the 8mm lens has a field of view of almost 180 degrees. With standard lenses I like to take several shots and combine them in post processing to reduce noise. With a fish-eye lens this is almost impossible so this single shot is a little noisy.
A few clouds started to roll in, I'd gotten the shots I wanted, and I was cold and tired so I packed up and headed for the car. In retrospect I wish I'd stayed at the lake and waited for sunrise. It was a spectacular fiery dawn and I was in the car driving on tree lined roads and only caught glimpses of it. Lesson learned.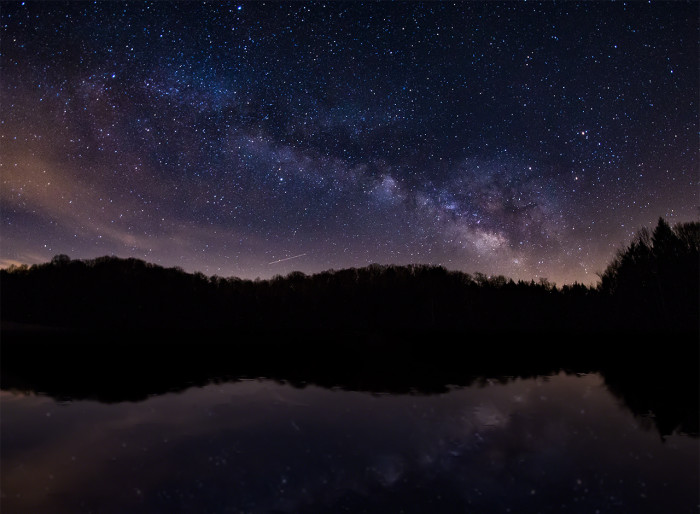 After a quick stop at the parking lot at Grandma Faye's Grocery on 664, where you can get a good strong cell signal, I headed off to Rock House because I'd never been there and very early on a weekday seemed like a good time to visit this usually crowded attraction. Fortunately I had it to myself for awhile and got a good vertical panoramic shot of the early morning sun coming in through the "windows". This is 8 landscape shots stitched together in a vertical panorama.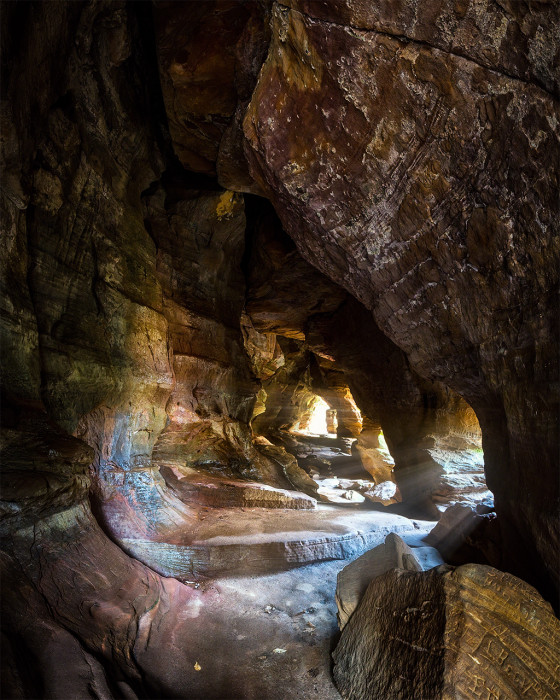 Next I revisited Old Man's Cave. Even on a weekday morning there were a couple dozen cars in the parking lot, but I did get a little time at the upper falls by myself. There's a stone bridge that spans the crest of the falls, but I really don't like including people or people-made stuff in my photos so I composed this shot to make sure it wasn't in frame.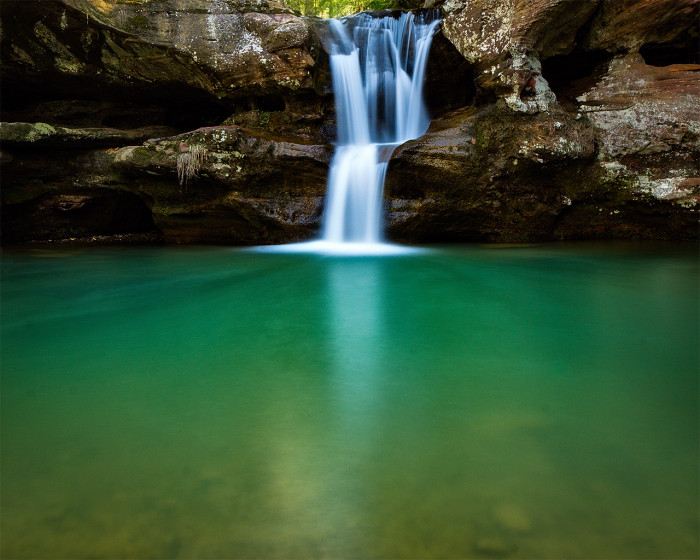 About half way between the upper falls and the lower falls is a cool little cascade that falls into a narrow gap in the rocks. Setting up low in the middle of the creek let me get a telephoto shot of it. Another bridge crosses right over this waterfall so zooming in tight let me crop it out.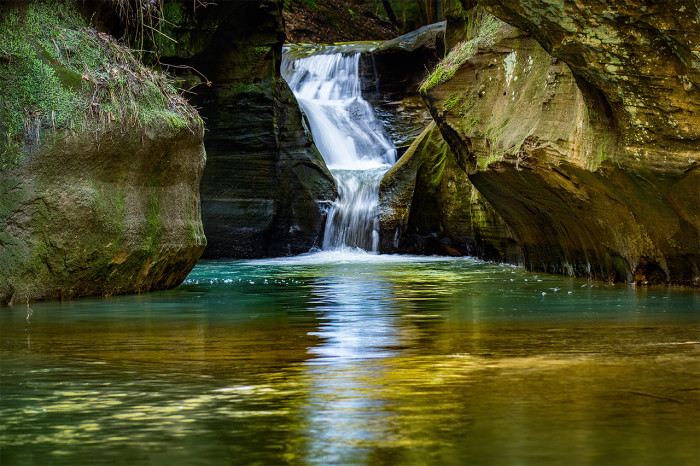 The lower falls was swarming with people so I didn't even stop, but kept going over to Broken Rock Falls. It was flowing much more than the last time I visited. The sun was high and bright and from the right spot on the rocks at the bottom of the falls there was a rainbow in spray.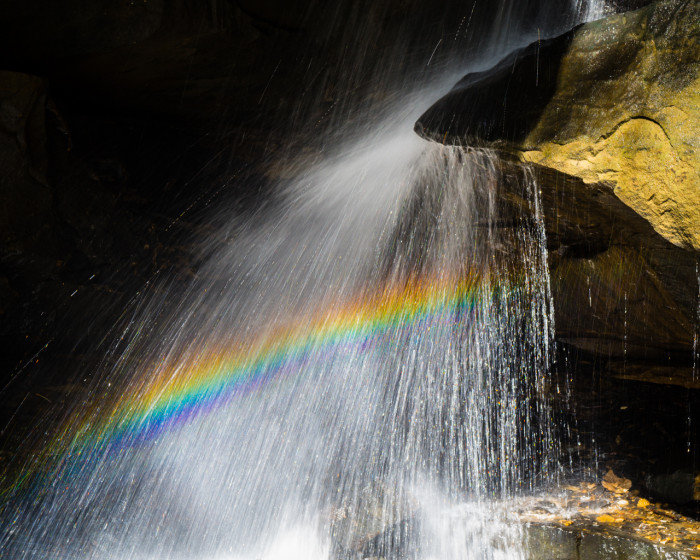 I'm going to break this day up into two posts. In the next one will be all about meeting up with @myohioadventure @kellyephotography and @justnsmith11 to combine waterfalls, light painting and steel wool spinning! You can see a couple of the finished photos on my Instagram feed @sherrill_photo