"Some people feel the rain – others just get wet." A recent heavy rain knocked a lot of autumn color off the trees. It also filled the creeks and invigorated the waterfalls.
Although I'd love to see the autumn colors last a little longer, the rain gave me the chance to photograph running water and autumn color at the same time. Usually these creeks are dry or so packed with leaves that no water flows.
As it does so often, serendipity trumped my plans. I went to Blendon Woods with a vintage Minolta Celtic 135mm f/2.8 lens intending to shoot lots of leaf closeups with shallow depth of field. Just a few steps in to the woods and I found leaves on moss, unusually colored leaves and leaves festooned with jewel-like drops of rain. Setting the camera's white balance to Fluorescent (about 4000K) let me capture the dramatic contrast between the leaves and the background (photo on the right below).
Very soon I heard the wonderful sound of running water. The first creek I came to was flowing strong and steady. Rushing to capture the water, the autumn color and the early morning sun all at the same time, I took I few shots that just didn't work. After trying several compositions, I finally got the one below. Standing in the shallow creek (thank you water proof Merrel's) on a chilly October morning in the bright sun waiting for a long exposure to finish was a moment of zen.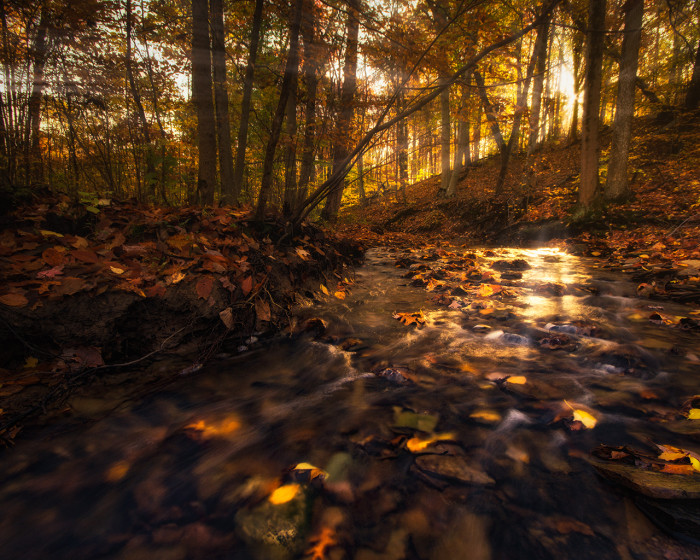 As I waded up the creek looking for more shots I came to a tiny waterfall and some fallen leaves that were lit by a sunbeam. Everything around them was in shadow. It was, in a nutshell, the theme of the day. Although I usually shoot scenes with wide angle lenses, in this case I wanted to focus on just the waterfall and leaves. I had my Sony 75 – 300mm lens with me so I used that. I didn't bring an ND filter that fits this lens, so I took 20 1/4 second shots and combined them in post to create a single 5 second exposure.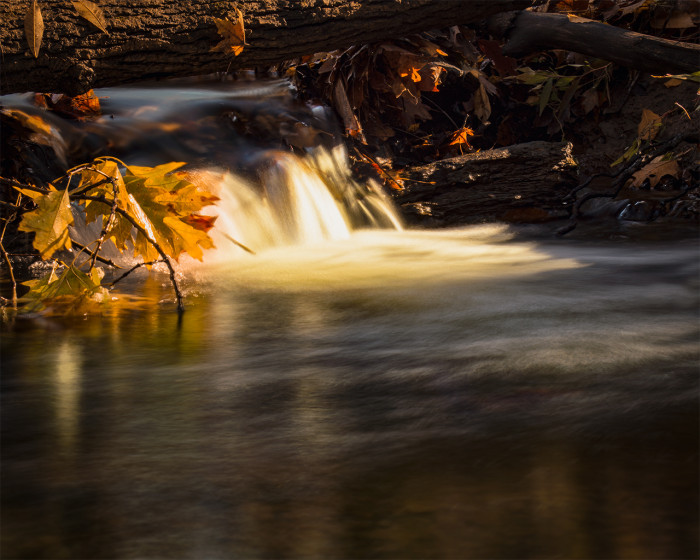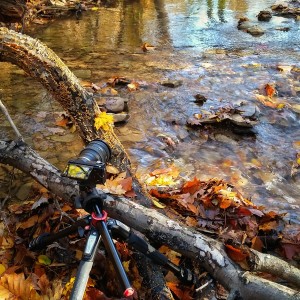 A little further up the creek I saw a series of tiny falls and a series of fallen logs spanning the creek. In the middle of the creek was a pile of fallen branches and leaves that would make a good foreground. After reconfiguring and repositioning the tripod and camera several times I ended up squatting in the pile with the tripod behind a branch.
With a 10mm lens, everything past about 3 feet (1 meter) was in focus with the lens set to infinity. I was so close to the foreground elements, I needed to take 5 shots at different focus distances to get everything sharp. The  shots were focus stacked in post before the rest of the adjustments were made.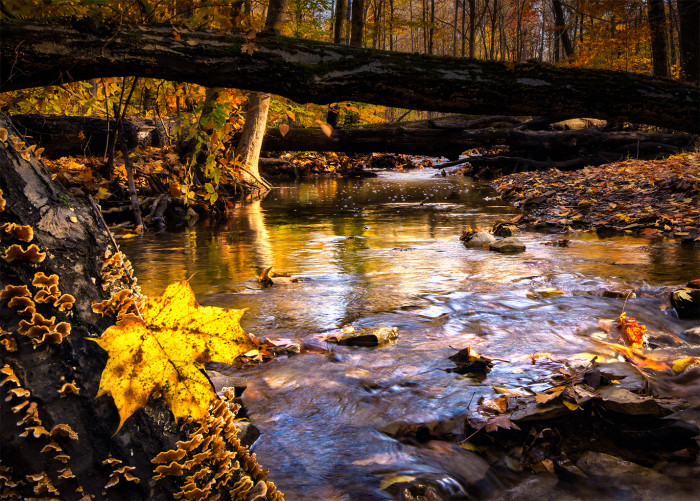 I went to Blendon Woods that morning thinking I'd be there maybe an hour shooting leaves. Three hours passed without my noticing. The Columbus Metro Park system is a wonderful resource and I've loved every park I've visited. Granted, sometimes those visits are a little longer than intended…