After a good November rain, Hayden Falls and Indian Run Falls in Dublin, Ohio had very strong flows. Even on an overcast late autumn day, the waterfalls were worth the effort. Although there was still some scattered fall color, the soft gray atmosphere did make me want to try some black and white shots.
For the shot below, I setup as low to the water as I could and after composing a couple test shots, I fitted a 10 stop ND filter. At f/8 the exposure would have been over three minutes and I'd lose all definition in the water and the filter would be covered in mist from the falls. Shooting at f/5.6 got me a more manageable 101 seconds. Because the depth of field is smaller at f/5.6, I aimed the camera up slightly so the closest part of the foreground was a little further away. Because the foreground consists mostly of blurred water I could get away with the reduced DOF and foreground fuzziness.
Click images to enlarge.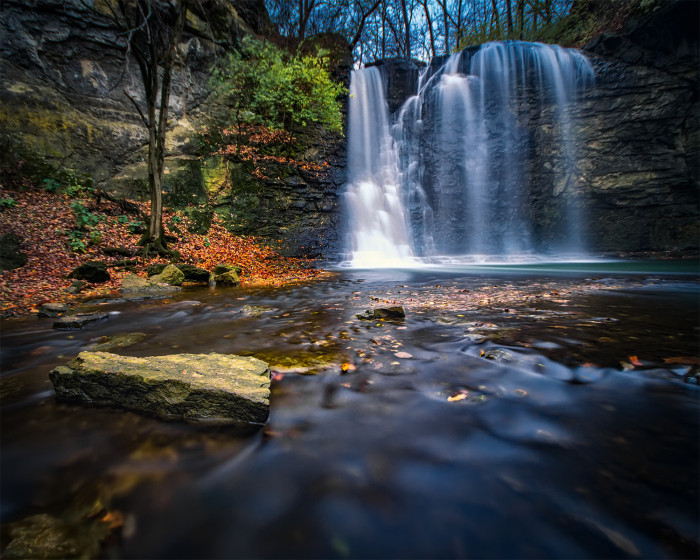 The next composition I found that I liked had foreground elements that needed to be in focus. To get both the long exposure that I wanted and keep the foreground elements sharp, I went without the ND filter and instead shot at f/13. That got me a 1.6 sec shutter time so I took five 1.6 second shots and combined them in post processing to produce an 8 second long exposure.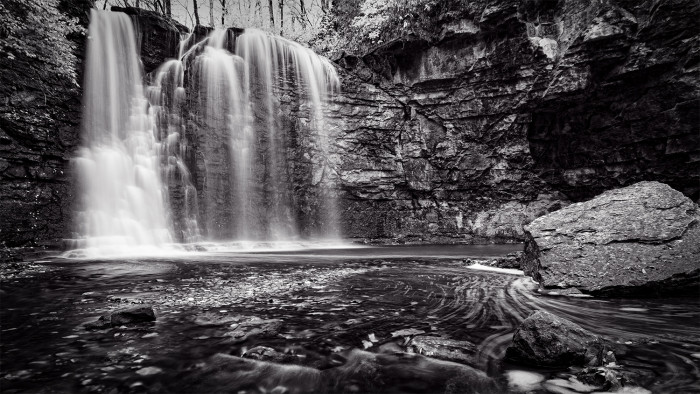 Nearby Indian Run Falls was flowing as strong as I've ever seen it. The upper and lower falls were both tempting, but climbing down wet rocks covered in slick leaves by myself wasn't very smart so I stuck to the cascades at the top. There are multiple spots where you can stand on nice flat rocks and position a tripod right in the water for a dramatic low angle shot. If you do stick your tripod in water like this, extend the legs completely when you get home so it can dry thoroughly.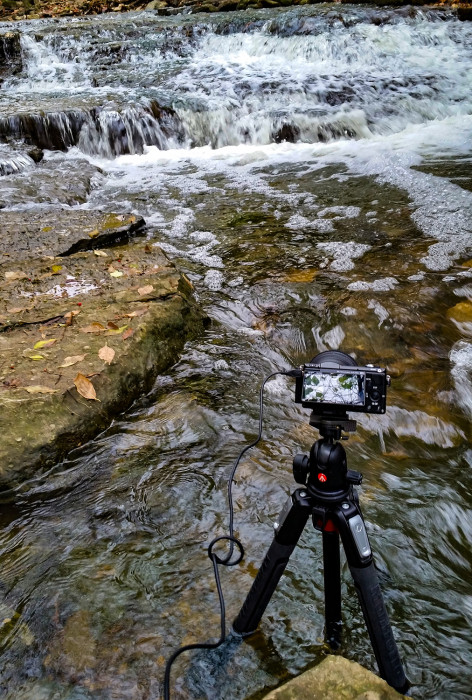 I tried both a single very long exposure with the 10 stop ND filter and combining ten 1 second exposures in post. The first photo below is the single 79 second exposure and the second is the composite. The single exposure has a much softer, ethereal look and the composite is more dramatic and highlights the water movement better.