The time between fall and winter when all the leaves are brown and the sky is gray (cough) is a messy, complicated time for landscape photography. Finding a clean and simple composition is a challenge. On my daily hike through Blendon Woods Metro Park I've been trying to do just that.
One approach is to not try to eliminate the clutter, but to simplify the colors and subjects. One of the great things about this time of year is there's no underbrush or leaves to block a sunrise in the forest. You have just the trees and the sun, just light and shadow.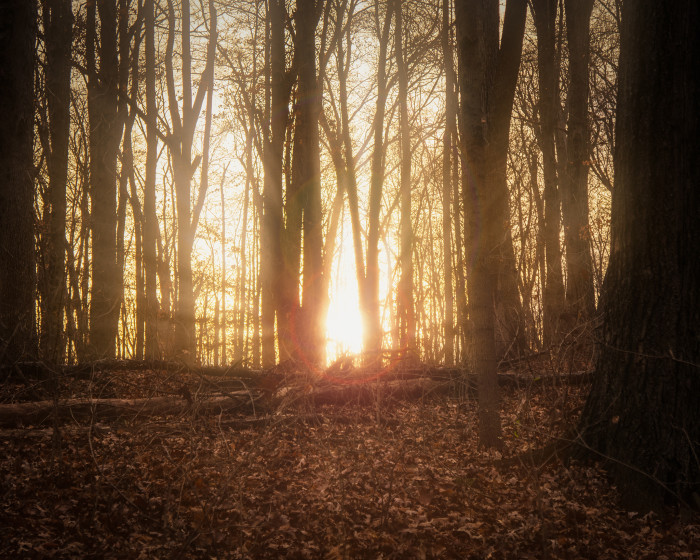 Another similar idea is to darken the clutter and highlight a single, clear subject. There's one species of bush in Blendon Woods that still hasn't changed color. It is the lone holdout of green in an otherwise brown woods. I found one of the bushes growing alone looking like a ghost of summer. It was brighter than everything else in the scene so with the camera in Aperture Priority mode I set the Exposure Bias to -2.3 to darken everything around it. I set the aperture to the widest available – f/5.6 – to blur the background and foreground.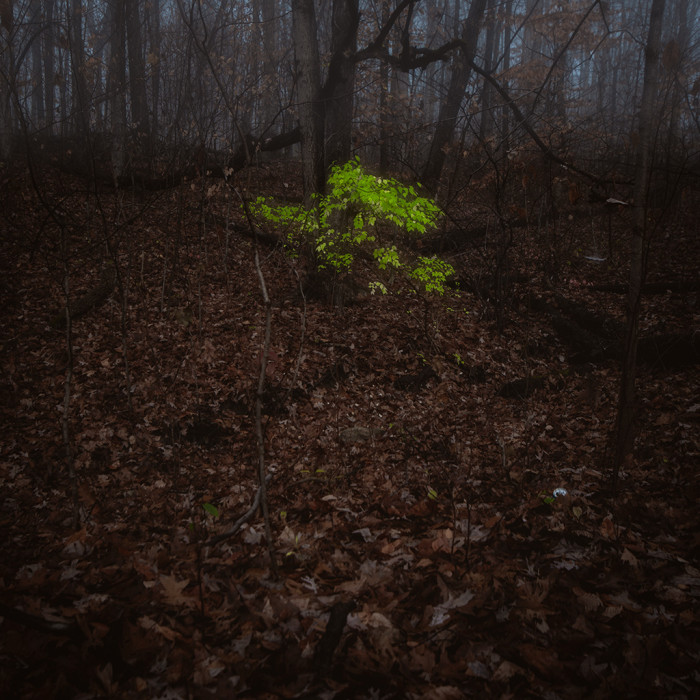 While walking along one of the creeks in the park, I saw a falling leaf land in a calm pool and create gentle ripples in the reflection. It made me think about grace and how even small acts – good and bad – can affect those around us. After metering and pre-focusing I tried dropping leaves and shooting on burst mode to capture the landing and ripples, but none of the leaves landed where or how I was hoping. Finally I found a big colorful leaf, laid it on the water and poked it with a small stick to get the ripples. Again I lowered the Exposure Bias and set the lens wide open. This was a rare instance (for me) of the photo coming out better than I hoped. The reflected trees all angle in to the leaf and appear as a crowd of observers. I found a Schiller quote that seemed to fit – "Grace is the beauty of form under the influence of freedom."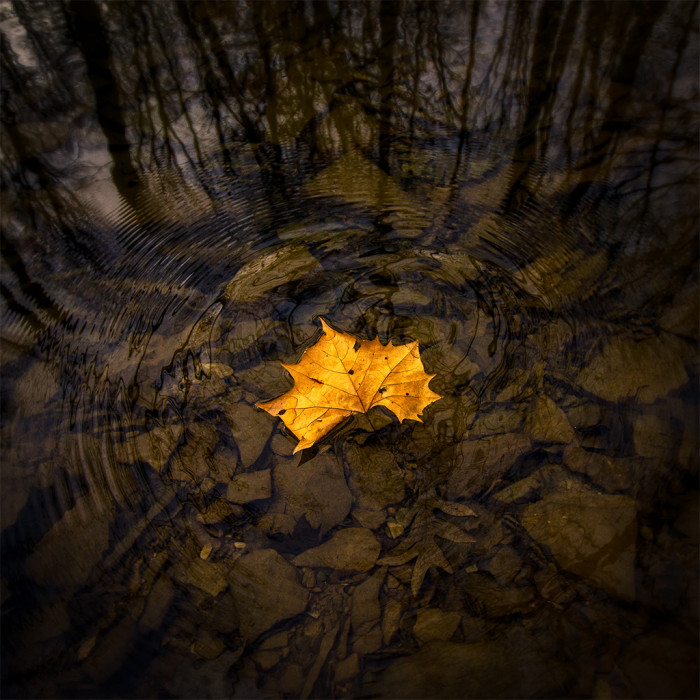 Another idea I've tried is just narrowing down the scene. Find a small detail to highlight. I found a tiny mushroom on a moss covered log lit by great golden hour light. You can use a telephoto lens to approximate a macro shot. My Sony 55-210mm lens has a minimal focus distance of about 4-5 feet. At 210mm and 5 feet away you can get a nice pseudo-macro composition.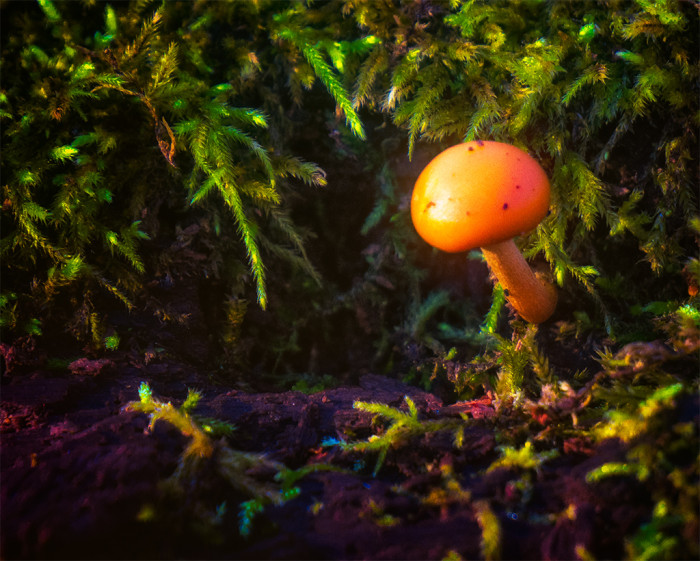 On a recent cold, dry morning I found a leaf that had frost only on the veins. Evidently when it's dry enough and cold enough the only moisture available to form frost is being squeezed out of the contracting veins of the drying leaf. Using a long lens I was able to narrow the scene to just the leaf and the contrasting leaves in the background.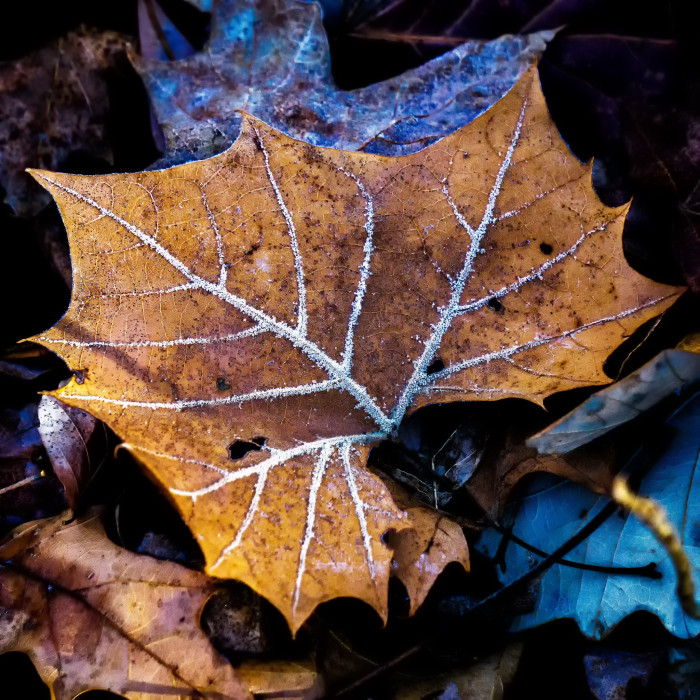 Even in the messy lackluster time between fall color and winter snow, there are nice scenes to photograph.
I've also taken to carrying my Sony a3000 with an auto-focus 55-210 mm zoom lens on my morning hikes. Because I shoot mostly landscapes, I've turned up my nose at auto-focus in favor of more precise manual focus. Unfortunately my manual focusing skills aren't up to wildlife photography. Carrying the Auto-focus lens let me get some shots of a couple unusual park residents – a black squirrel and an albino squirrel.