Didn't have any luck getting a sunset time lapse at Hoover Reservoir this time. I did get a cool fish-eye shot of the sunset from the end of one of the trails through the woods.
Dark storms clouds moved in before the sun fully set and another attempt at a time lapse was subverted. I'd also picked a new, untested spot and it wasn't great. There was only a small area where I could setup, it was too high above the water and there were unavoidable branches and flotsam sticking into the compositions.  For the time lapse I tried forgoing the usual wide angle lens and zoomed in with a 75mm.
While the Sony a3000 was clicking away, I decided to try to make the most of all the stuff sticking in from every direction to frame the sunset. I got out the Sony a5000 with the Rokinon 8mm fish-eye lens and shot several hand held compositions. The one below turned out to be my favorite shot from an otherwise unsuccessful outing.  Post processing is relatively light on this one. I de-fished  the scene, made some RAW adjustments and finally added just a hint of cross-processing.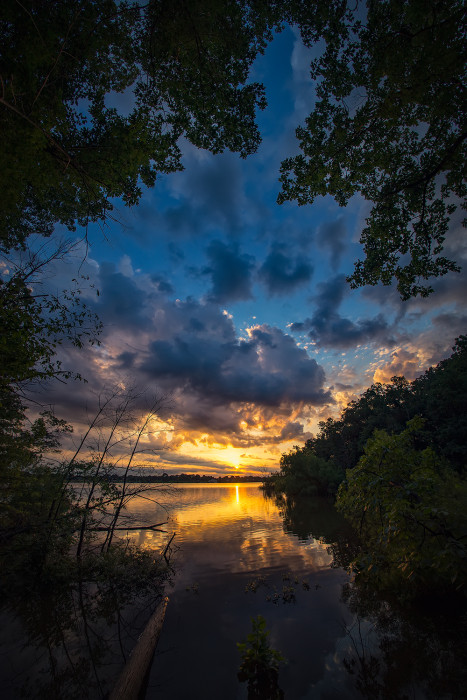 I stopped the intervalometer after about 10 seconds worth of frames. Just to see what might have been, I went ahead and rendered the time lapse. The music is actually the first two notes of Purple Haze stretched out 10 times. It seemed appropriate.