American Electric Power (AEP) owns 60,000 acres of land near Zanesville, Ohio that has been strip mined for coal. They've opened it to the public as reclaimed recreation, or ReCreation as they put it, land with hiking, biking, and horse riding trails, camping, and fishing. It also happens to have some the darkest skies you can find in Ohio.
Combine those dark skies with easy access, no crowds, and ridges with clear vistas to the horizon and you have my new favorite spot in Ohio for astrophotography. Sorry Rose Lake, but you were a loud, crowded mess last time I tried to visit. One spot in particular, Grieser Field, has been set aside by AEP for use by the Columbus Astrological Society (CAS). Grieser Field is also much smaller than it used to be. It's a couple acres at most and surrounded by mature trees. It's an ideal spot for deep sky astrophotography, but in wide angle shots you lose some of the sky near the horizon. It used to be that all you needed to access the field was a free permit from AEP. Now there's a locked gate. Fortunately, on my first visit there was already someone there who'd unlocked the gate.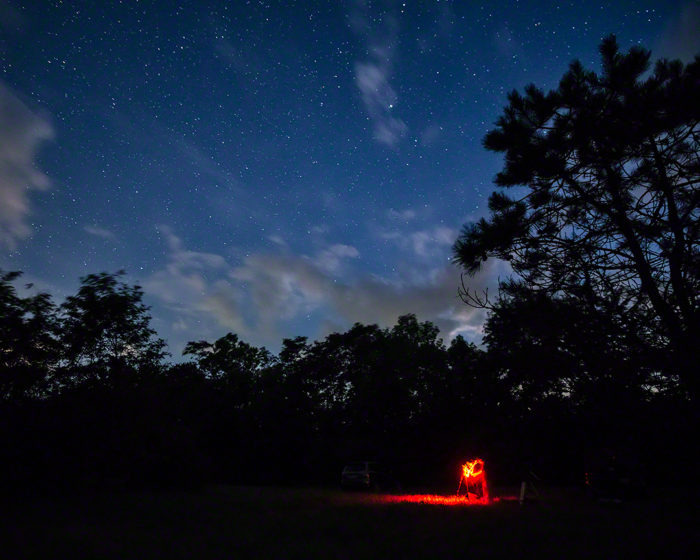 After scouting around a bit and getting by bearing, I decided to setup for a couple time lapse videos while I waited for the clouds to clear. Clouds aren't great for Milky Way still photos, but they add a lot of life and depth to a Milky Way time lapse. The video below is about 2 hours of cloud and star movement compressed to 26 seconds.

As the sky started to clear directly over head, I aim my 8mm fisheye lens almost straight up to capture the arc of the Milky Way emerging from the clouds. This ended up being my favorite shot from that night, evoking the feeling of laying down in the grass on a summer night and staring up at the stars.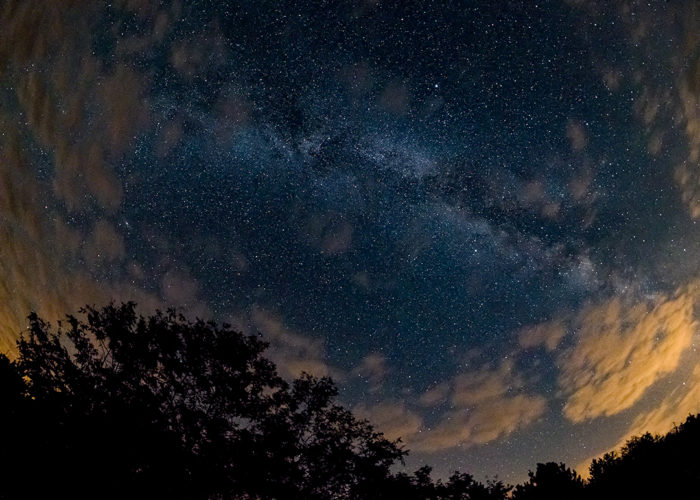 The sky was almost completely clear by about 1AM, but the galactic core was sinking below the horizon and I had a 2 hour drive home. I decided to capture one more shot of the Milky Way from a position that made it line up with a low notch in the surrounding tree line. I've been trying to post at least one black and white photo per week to Instagram, so I chose to convert this shot to black and white.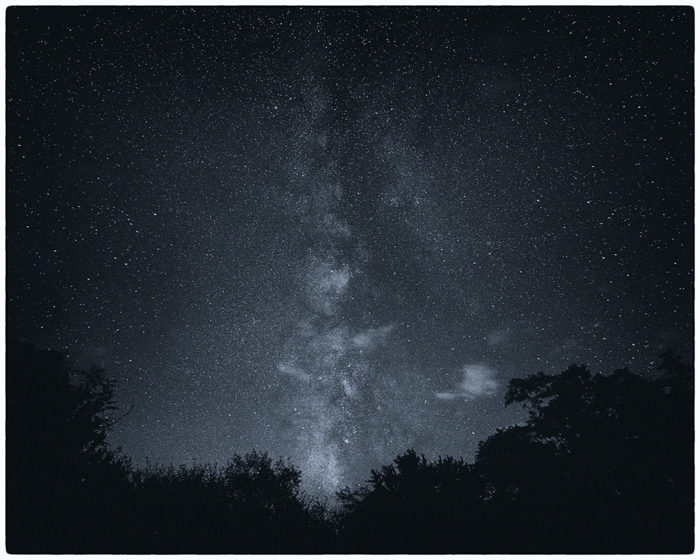 When the forecast called for clear skies again the next night I returned hoping to do some light painting and get some panoramic shots of the vertical Milky Way. When I got there the gate was unlocked again and the same photographer from the previous night was already there setting up. My light painting would mess up his shots and where he'd setup was where I'd want to be for the panoramas, so after a brief chat, I headed back out of the field and up the road to a nearby ridge. From there I could get much more sweeping views of the Milky Way.  I setup near a closed section of old road and lined up the Milky Way for a 10 shot vertical panorama.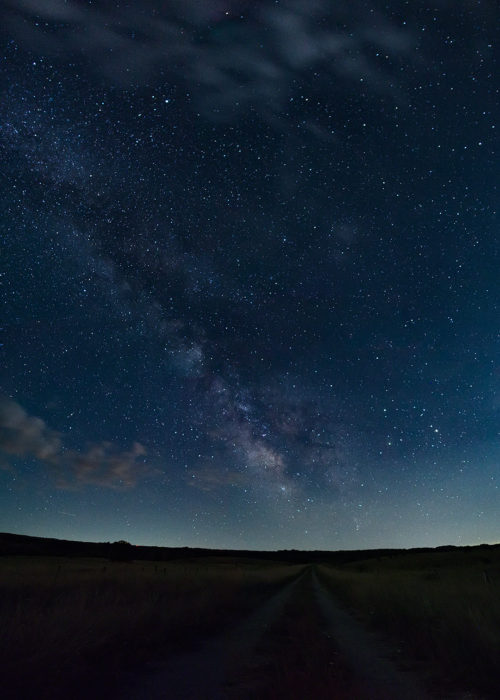 The next week, I returned to a nearby spot further down the ridge where I could point my cameras North-East in hopes of catching the peak of the Perseid Meteor Shower. Unfortunately, the half full moon kept the sky from getting really dark until about 1AM and clouds rolled in that obscured the sky by about 2AM. I did manage to capture a few shooting stars, but nearly as many as I hoped for. This shot of a single meteor crossing the thin side of the Milky Way was the best that I got.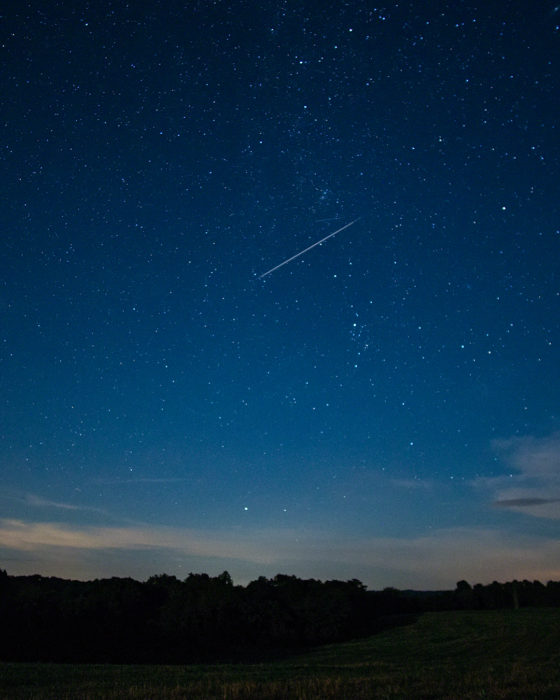 Capturing meteor photos is a lot like setting up for a time lapse. You shoot long exposures one after another and hope you catch the streak of the fireball. Because I had one camera aimed right at the North Star (Polaris) I decided to combine them into a star trails photo. This is 300 exposures taken over about 75 minutes.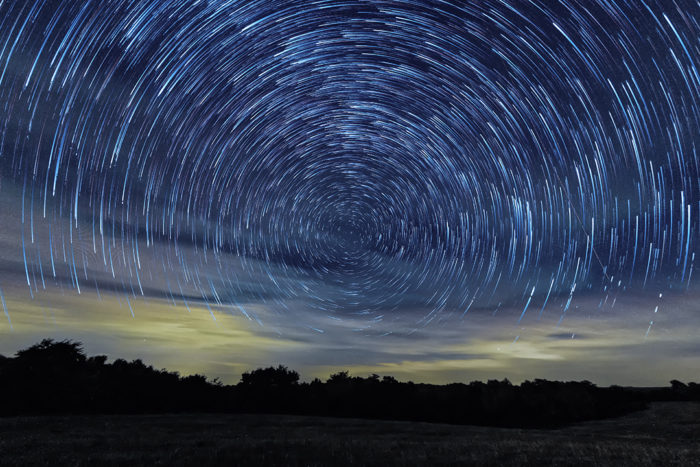 As soon as we have another clear, dark night, I'm eager to return and explore more of the AEP ReCreation lands. Who knows, I may even go sometime during the day.