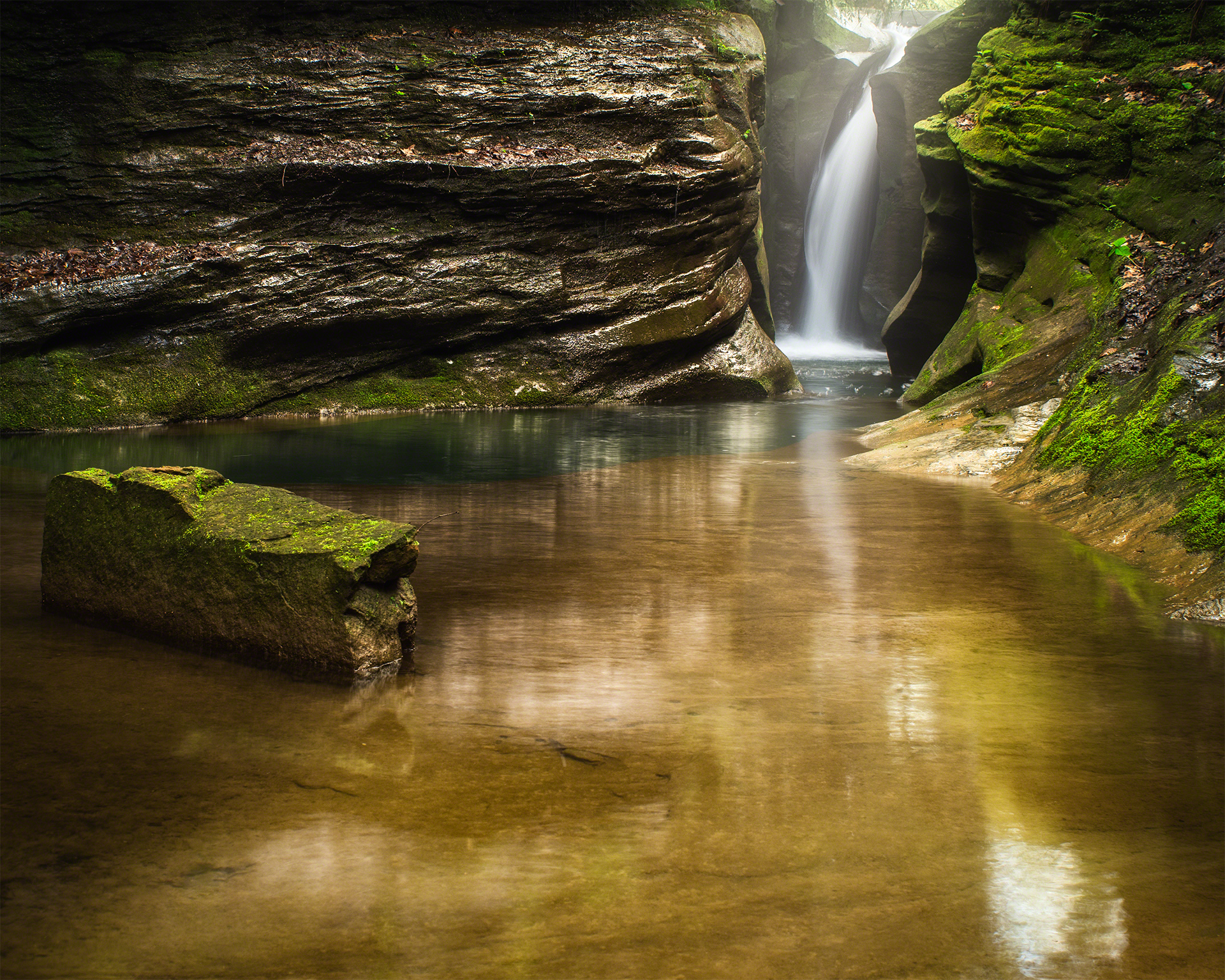 For years I've been seeing photos of an incredible, hidden waterfall in the Hocking Hills area called Corkscrew Falls. Until recently, it was private property. Now it's part of the Boch Hollow Nature Preserve and has been officially named Robinson Falls. You can get a free permit to visit the falls from the Ohio Department of Natural Resources. After getting my permit, I was eager to finally photograph this unique waterfall myself.
The falls isn't very large, but the rock formations surrounding it are very unusual. There are a series of narrow openings through which the creek flows. It looks as though the falls has moved backwards each time the Blackhand sandstone has collapsed. In front of the openings is a deep pool filled with water that's a gem like aqua color. It had rained hard the day before I visited and the falls and creek were full. There was a mist hanging over the waterfall and the bright morning sun made it glow. I couldn't have hoped for a better time to see this place that I'd wanted to photograph for so long.
Click images to enlarge.
All photos are copyrighted and protected by Digimarc.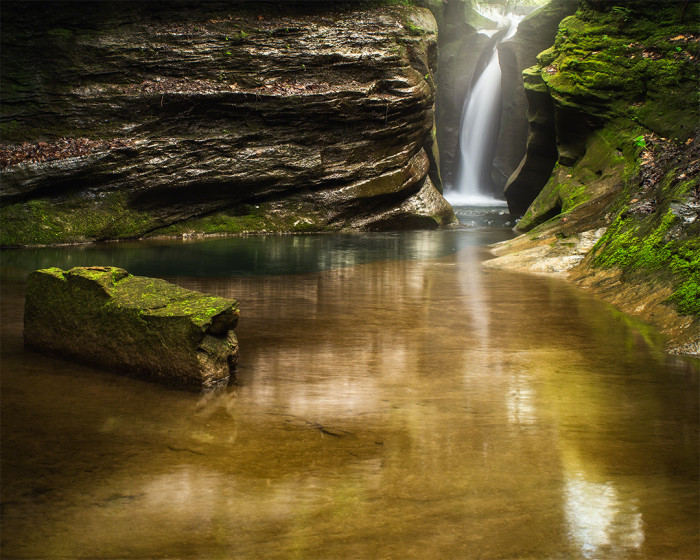 I got as close as possible while sticking to the east side of the creek. The west side of the creek and the land beyond is still private property. Getting any closer to the falls would have required a swim in 50 degree water or crossing slick, moss covered rocks. Even where I stood, I almost lost my footing a couple times. The pool is at least 8 or 9 feet deep. You can see most of a large tree trunk standing upright in the water and it doesn't reach the surface.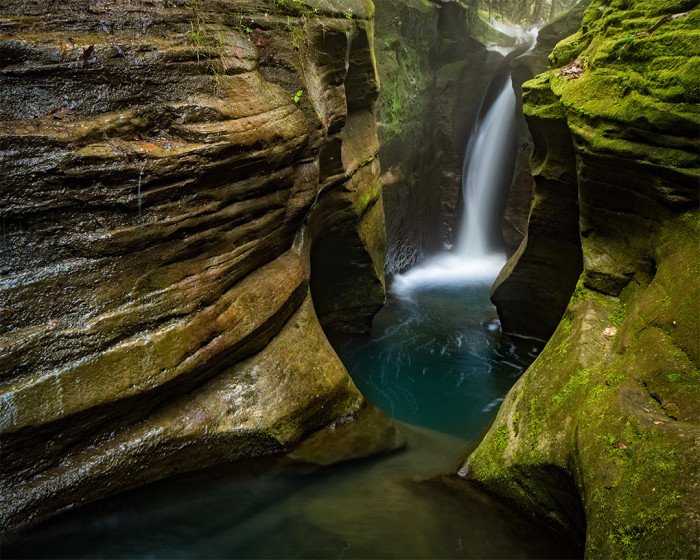 From a few steps back I took a shot with a Rokinon 8mm fish-eye lens which lends an otherworldly feel to this already unusual scene. If you look closely in the bottom left corner, you can see the top part of the tree trunk below the water.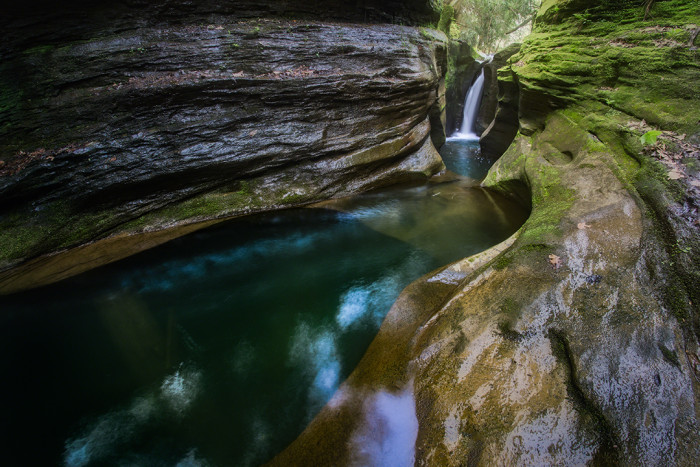 I've started learning how to use a 100 year old 5×7 field camera (one of those wooden cameras where you duck under a sheet to focus), but I didn't feel confident bringing it down into this slick, difficult spot. To emulate that camera I used a somewhat less vintage 28mm Minolta Rokkor lens on my digital camera and set it to black and white mode. After applying an Ilford FL 125 film preset in Lightroom, I had an approximation of what the large format camera might have captured. This is the only time I use Lightroom presets – when I'm converting a photo to look like it was shot with a particular black and white film. Otherwise, I think presets are lazy editing and prevent you from learning and improving your post processing. Every image you want to share deserves its own bespoke processing. OK, hopping off the soapbox now…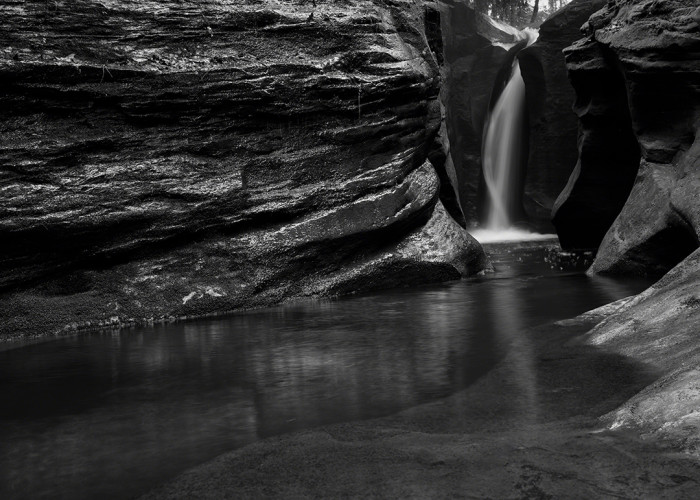 I liked the black and white so much that I applied the same editing to another closeup shot taken with a 55mm lens.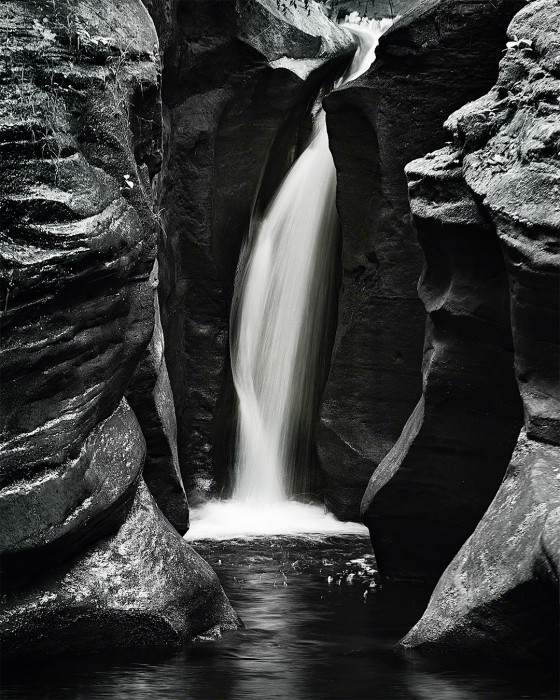 If you'd like to visit Corkscrew Falls, you can download a PDF permit application from the Ohio Department of Natural Resources, fill it out and email it back. They will email you a permit and parking pass that's good for up to ten days (you have to specify the start and end dates you'd like) and a map detailing where to park, how to access the falls and the private property boundaries. Please stay off the private property. The family donated the land so everyone can enjoy the waterfall. They certainly deserve visitors' respect.